Arouse your own happiness
Yes it's right: There are bad situations, you wake up with a bad feeling or something from the past is still with you which makes you still sad or upset. Nevertheless you have your destiny in your own hands because everything has always two sides. Negative situations are there to see the other side in it too: The positive side. Your inner happiness is not coming from your perfect partner, not from your job, money or a perfect house. The inner happiness is your decision. It's the decision to look at the other side of negatives. Awake your inner happiness by conscious concentrating on positive energy. 
Ask Archangel Chamuel to help you with this happiness mission this week!
In LOVE, LIGHT and ANGELS
Sabrina DiAngelo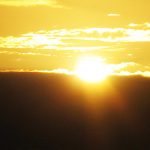 If you like it then like it: